Japanese Drop Beads
Drops and magatamas are tiny teardrop shaped beads
Packed: Large 6 inch tubes by 9/16" diameter
Size: Each bead is about 3.4 mm
Contents: 25-28 grams per tube
Quantity: 450-500 beads per tube or about 18 beads per gram
These are approximate values, the quantities vary slightly by color.
These fun beads are shaped like tiny raindrops. Because the holes are off center, they produce interesting affects whether you string them together or separate them with other seed beads in between.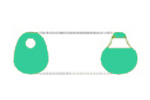 ---