Modern bead cord like Beadalon or Soft Flex has several measurements that can be confusing. The guidelines presented here are based on our experience. They work for us and should work for you. With a little knowledge you are sure to find the products that work best for you and your projects too.
In the good old days, a wire called tiger tail was used to string beads. This was usually a 3 strand, steel fish leader material. It was prone to kinking, but it was very popular because it was easy to use. It eliminated learning to knot the thread that was used prior to tiger tail, and it was very strong for it's size. If tiger tail didn't exist, I probably would have given up making jewelry a long time ago. The modern beading wires we'll talk about here are a great improvement over tiger tail. They'll make your work much easier, stronger, and more fun! They let you concentrate on being more creative!
Both Beadalon and Soft Flex can be used for the creation of jewelry. They offer a wide variety of diameters, flexibilities, and lengths for use by designers and hobbyists. All of these products offer good choices and better values than other materials that are available. Modern bead wire is composed of a multi strand, stainless steel wire, with a clear nylon coating. The diagrams above give you a microscopic view of the different flexibility wires that are available. One of these wires is sure to be the best material to use in your jewelry project. You can use crimp beads or knot the bead wire to finish your project. The crimps are much more popular and we think they are easier to do.
MAKING SENSE OF THE MEASUREMENTS
The three measurements you will encounter are the diameter, the number of strands, and the length. By learning about each of these, you'll be prepared to select the best product for your purpose. There's a lot of misinformation out there so knowing these measurements will equip you to make your own decisions.
1. DIAMETER: This is the measurement of the thickness of the wire.
Thicker bead cord stands up to wear and tear better but you sacrifice some flexibility as you get larger diameters. You may also be limited by the hole size in your beads. Diameter is measured in thousands of an inch so the sizes you will see from smallest to largest are numbers like these: .010, .012, .013, .014, .015, .018, .019, .020, .024.
BEAD WIRE - DIAMETER CHART

Diameter
Break Strength
Recommended Use

.010
.012
.013

7-13 lb

Tiny, small, light weight beads. Pearls, seed beads, or small gemstones where the drill holes are tiny and other wire sizes won't fit through the hole.

.014
.015

15-20 lb

Light to medium beads. Czech glass, crystals, small to medium stone beads and seed beads. This is a great size for small to medium necklaces, bracelets and anklets. This is a great size to begin with. The .015 diameter is the best selling size.

.018
.019

20-26 lb

Medium to heavy beads. Large glass beads, Coral, Turquoise and other large stone beads. Use this size wire on long necklaces and on anklets, bracelets, or watches for extra strength and durability.

.024

20-40 lb
Large, bulky, or heavy beads. Big metal beads, large African beads or big stone beads. This is a great size for heavy bracelets, extra long necklaces, pet jewelry, belts, and purse handles.
Some people recommend using the largest size bead cord that you can get through the hole in your beads, but this is a matter of personal choice more than anything. We like to use the smallest cord we feel is strong enough to hold up for your projects expected use. This keeps your project more fluid and flexible so it will drape better.
Break Strength is how much weight the wire can lift without breaking. It is determined by a combination of the wire diameter and the number of strands in the wire. It is shown on some labels, but not all. If you know how to choose the diameter and number of strands, the break strength will be built in and you won't need to worry about it.
2. NUMBER OF STRANDS: The number of filaments that make up the wire
Think of this like the "thread count" for your bead cord. More strands means greater flexibility. It does not necessarily mean it will be a larger diameter. Typically you will find numbers like 7, 19, 21, & 49 strand bead cord. Higher numbers are more flexible.
Each of the different strand counts are available in a wide variety of diameters. See the diameter chart above for more information on diameter.
BEAD WIRE - STRAND COUNT COMPARISON
# OF STRANDS
FLEXIBILITY
STRENGTH
ECONOMY
7 Strand
Good
Good
$
19 or 21 Strand
Better
Better
$$
49 Strand
BEST
BEST
$$$
Expect to pay more for a cord with more strands as it is more expensive to produce. The 7 strand wire is flexible enough for many projects. It's the most economical bead wire available. The 19 & 21 strand wires are more flexible but they cost a little more than the 7 strand wire. 19 strand wire offers the best blend of quality and economy. The 49 strand wire is the most flexible wire available. You will get the best drape or flow from this wire. It resists kinking better than all other wires. See the diagram at the top of this article for a cross section view of the the strands or threads in each type.
Many times people think that 49 strand wire is larger than 7 or 19 strand wire. This is not always the case. A 49 strand wire in .013 diameter is smaller than either a .015 diameter 19 strand wire or a .018 diameter 7 strand wire.
3. LENGTH: This is the quantity of feet you get on the spool.
Bead cord is more economical if you buy it in a bulk spool. Typical lengths are 30', 100', 300' and 1000'. Buy the basic cord you use all the time in bulk spools and buy short spools of the other cord to give yourself a selection of other sizes and colors. Bigger spools are cheaper per foot.
If you are unsure of which cord to choose, a good first choice is to get the .015 or .018 spool in either 49 strand or 19 strand wire. These offer a good value and are the best sellers year round. Next purchase a smaller size like .012 size and finally get some of the other cords listed for variety.
Be sure you leave enough space between your beads. Pulling the cord too tight while crimping makes your project look uneven and does not allow the beads to "flow" nicely. A little trick is to make a loop out of your necklace or bracelet before you pull it tight. This ensures that you have enough space between the beads so things drape beautifully.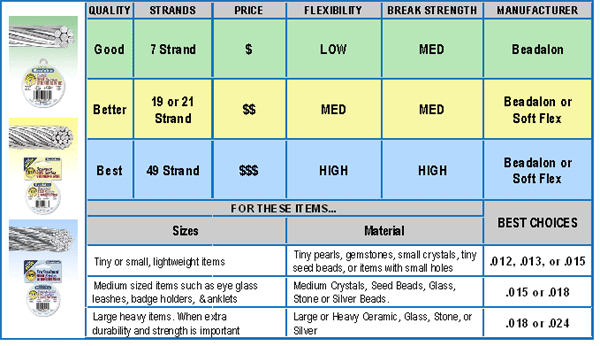 Return to the "Bead Cord" Shopping
---
We're compiling some interesting and useful ideas to share with our friends and fellow beaders. Send us an email with useful ideas or your favorite tips and tricks. We'll be glad to publish your ideas here on Beadstuff.com!
Send us your ideas and be sure to stop back soon.